Facial Chiromassage as practiced by Elena Zemskova

Chiromassage is a special massage technique based on various techniques of classical and oriental massage systems. It also includes the elements of chiropractic and kinesiology. This successful combination ensured the success of this type of massage. Chiromassage does not have any classical scheme. It uses a variety of techniques that provide a positive effect.
IQ Chiromassage
Chiromassage IQ i.e. Intellegente Quiromasaje, which in Spanish meansintelligent chiromassage.
Facial chiromassage is used to relieve swelling, to simulate the contour of the face, to tighten it, to improve the complexion. In addition to the effects visible to the naked eye (rejuvenation, lifting, skin coloring, mood improvement), chiromassage influences deep processes in muscles and skin, causing tissue regeneration at all levels of the dermis.
The results to which the facial chiromassage leads:
Face oval is restored, nasolabial fold is smoothed
Skin elasticity, turgor and tonus of facial muscles are improved
Skin is enriched with oxygen, toxins are released faster
Lymph flow is normalized, edema disappear and the complexion is refreshed
Cells recovery process is activated
The problems of muscle fatigue, muscle atony are solved.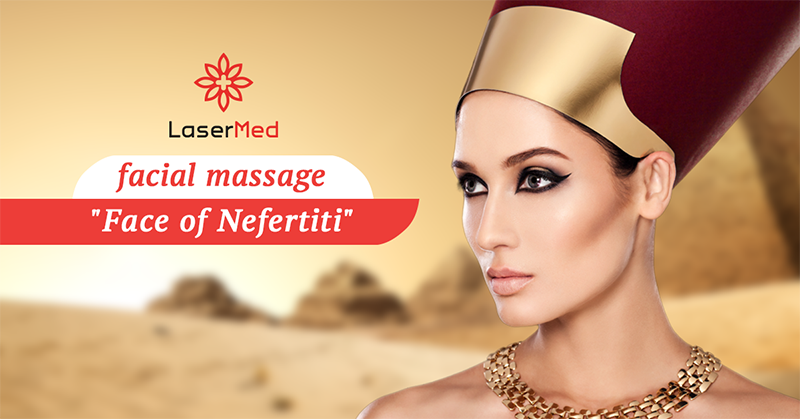 Face of NEFERTITI
The procedure is aimed at strengthening the muscles of the face and slowing down the process of muscle atrophy, increasing the elasticity of the skin and smoothing out fine wrinkles, restoring the face oval.
Massage activates blood circulation and lymph circulation, and as a result, stagnant phenomena in tissues disappear, oxygen exchange is improved.
As a result, small wrinkles decrease and disappear, the contour of the face is restored, while simultaneously the color and firmness of the skin is improved.
Blepharolift
"Blepharolift massage" is a modeling massage of the upper two thirds of the face, the area of influence of which includes: forehead, eyebrows, periorbital area and cheek area.
Massage is performed on dry skin and is ideal for both men and women.
The main indications for this procedure include first signs of aging of this area, wrinkles, eyelid swelling, eyebrow lowering, sagging of eyelid, hernia, subcutaneous tissue atrophy (sunken and round eyes), "dry eyes", dark circles and much more. Blepharolift massage has both an instantaneous effect in the form of lifting that lasts a week after the procedure and a cumulative rejuvenating effect. As with all other massage techniques, the best result is achieved when passing a course of procedures.